Do you live outside the USA and wonder how we celebrate Christmas in America? Well, wonder no more!
The United States of America is filled with people from many different cultures and backgrounds. A number of holidays are celebrated here around the end of the year, but my family and I only celebrate Christmas. I won't go into detail about the origin of Christmas or the religious implications, just how the country in general celebrates the holiday. Yes, some families celebrate it by going to church, but many others celebrate the commercial aspects instead of the religious ones.
Just in case you are unaware, some holidays have different dates each year, but Christmas is always on December 25th. Don't confuse Christmas with Christmas Eve, the day and night before Christmas (December 24th)!
Mythos
Most people know the mythology of Christmas — or at least part of it. Every year, Santa Claus flies around the world in his sleigh to deliver presents to all the good kids. The bad kids get lumps of coal. The presents are made by magical elves in his workshop at the North Pole.
Santa delivers these gifts late at night on Christmas Eve in his sleigh pulled by magical flying reindeer.  He flies onto the rooftops and squeezes down the chimney to deliver the presents.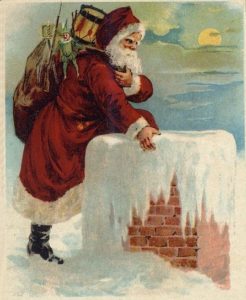 Santa's reindeer are named Dasher, Dancer, Prancer, Vixen, Comet, Cupid, Donner (also called Donder and Dunder), and Blitzen (also called Blixem and Blixen). Rudolph the Red-Nosed Reindeer was added some time in the 1900s. Other than Rudolph, these reindeer don't really have any personalities or special features.
Some times you may see or hear about Santa's wife, Mrs. Claus. She isn't as popular as Santa, and doesn't have any specific characteristics like Santa's big red suit and white beard. However, she is still known by everyone in the USA.
The Spirit of Christmas
From time to time you may hear people say something about "The Spirit of Christmas." Basically, what they mean is how you should act towards others when the holiday nears. Christmas is a time of joy, giving, peace, and love. If someone has the Christmas spirit, that means they're very cheerful and selfless. I know most people think about presents around Christmas time, but the act of giving is more important than the act of receiving.
Traditions
Every year, various malls around America hire a person to play Santa Claus throughout December. They dress up and usually sit on a big red chair. Kids come by to sit on Santa's lap and tell him what they want for Christmas. They usually take a picture with him before leaving. There are almost always long lines of children waiting to see Santa in each big store. It's a very popular attraction.
Another common tradition (or arts and crafts activity) for kids is making a Christmas chain. They make 25 rings out of construction paper. These rings are usually red and green since those colors are associated with Christmas. Children tie them together to make a chain, and remove one ring each night so they can know how much longer until Christmas.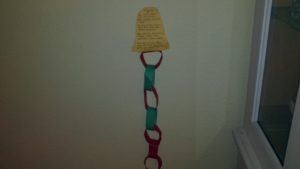 Decorations
Most people that celebrate Christmas in the US decorate their house with a number of tiny lights. Some people only use white lights, and others use multi-colored lights. As mentioned earlier, the colors associated with Christmas are red and green. However, people also use white and blue since those colors linked with winter. Below is an EXTREME example of Christmas lights. Normal families don't use this many lights, nor do they sync them to music.
Snow is also a common feature with Christmas. Many stores sell blankets or items that look like snow to decorate your house with. There are also cans that are similar to white spray paint to give a snowy look on your windows, but this spray will wash off.
Another common decoration is called a wreath. I actually got this name wrong for most of my life! It's basically a circle of pine tree branches and other items. Most people buy fake plastic ones because the real ones are hard to make and don't last too long. These are usually hung on your front door.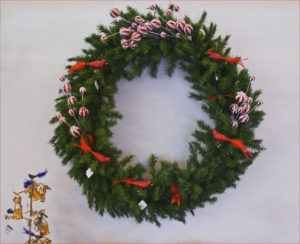 A decoration for adults is called the mistletoe! Why is it only for adults? Traditionally, anyone standing beneath the mistletoe has to kiss. That's why you may see pictures of people walking around holding this little piece of greenery above their head.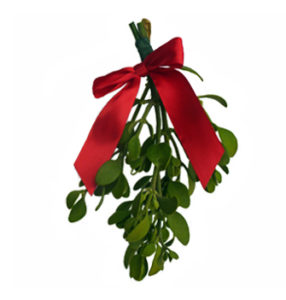 The Christmas Tree!
Possibly the most important of all Christmas decorations is the tree! Everyone that celebrates Christmas — and that has enough extra money — buys a Christmas tree and places it in their home. The tree types are Pine, Fir, Cypress, Spruce, and Cedar. The tree is usually decorated with lights and various ornaments. It is then topped with either a star decoration or an angel decoration. My family always used a star until a few years ago when my sister and her kids started putting up an angel.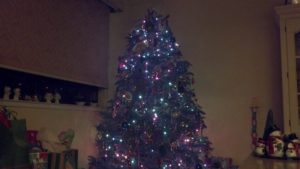 Some big cities around the USA may get one huge Christmas tree and decorate it in their town square or shopping area. The most famous Christmas tree in the country is in Rockefeller Center in New York City.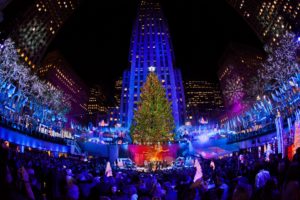 Gifts
Gifts are usually the one thing kids, and some adults, look forward to each year. Everyone buys or makes a gift for each member in the family. They are usually then wrapped in decorative paper and sometime topped with a bow. These presents are then placed under the Christmas tree until Christmas morning when they are opened. There are some families that open their presents late at night on Christmas Eve, and others might open one gift on Christmas Eve and save the rest for Christmas morning.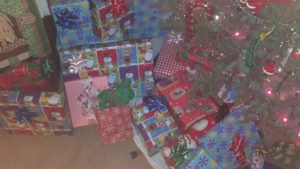 In addition to the larger presents, stockings are sometimes hung over the fireplace (if you have a fireplace) and are filled with smaller toys or treats. The items found in stockings are usually from Santa Claus, not family members.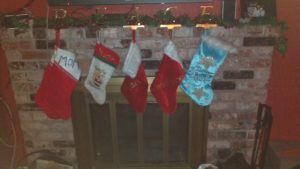 Christmas Foods
Since so many cultures come together for Christmas in the US, there are many unique foods that may be common in one family but not in another. However, some foods or treats are usually pretty standard for all Americans.
Like Thanksgiving, many families roast a turkey for Christmas Eve or Christmas day. They sometimes make a feast out of it with other dishes that are commonly found around Thanksgiving: Ham, cranberry sauce, mashed potatoes, etc.
Most other treats found around Christmas time are usually sweets. The most famous drink for kids is a cup of hot chocolate. All you need is hot milk and some type of chocolate to mix into it. Some stores or people may add Marshmallows, Whipped Cream, Cinnamon, or Peppermint to their mug of hot chocolate. Just to be clear, they don't add all those ingredients at once. If anything, they may add whipped cream with the Cinnamon or Whipped Cream with the Peppermint.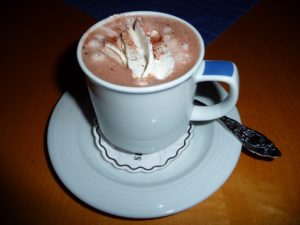 The most famous drink for adults is Eggnog. I didn't even know what Eggnog was until I researched it, I just know it tastes horrible. Apparently, Eggnog is a drink with milk, cream, eggs, and sugar. Most adults get the kind of Eggnog with alcohol in it so they can get a little drunk around the holidays.
The most famous candy around Christmas is the Candy Cane. It's a peppermint flavored candy in the shape of a cane. Why a cane? I don't know!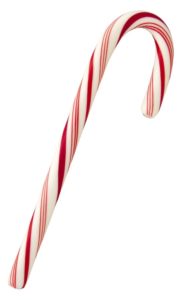 The most infamous Christmas food is the fruit cake. I've heard of this food most of my life, but my family never makes or eats this. Apparently, it's a sweet cake with nuts and certain fruits cooked into it.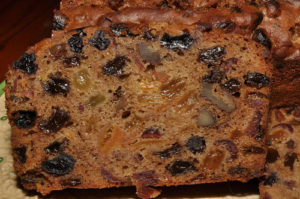 You usually hear about Fruit Cakes in movies or TV shows. An aunt makes it and sends it to the kids, but the kids try to avoid it at all costs.
Share the Joy and Info
I hope I didn't miss anything in this information post about Christmas. If I did, or if you have a question, leave a comment below. And don't forget to share this with others that may be wondering about Christmas in America!