This pandemic is weighing heavily on everyone. I'm no different, and it's been awhile since I last wrote.
When I first heard of COVID-19 spreading through Asia, I didn't think it would come to the rest of the world and force so much to shut down. Scientists said the Coronavirus is another form of the SARS virus, which many of us have already lived through, but this version is much more contagious. Now here we are, about a month into the pandemic with over 20 million unemployed.
I work at a Walmart and am labeled an essential worker. That means we all still get to work, but we just have to be extra careful. Management will give employees a mask if they don't own one already, Walmart put up sneeze guards on all cash registers, the water fountains have been shut off, and only a select amount of customers can be in the store at once. When it comes to the employees, management is now taking the temperature of every employee at the start of their shift. We also received a one-time bonus: $300 for full-time workers and $150 for part-time workers. Several employees have already tested positive for COVID-19, including the store manager. Others went on a leave of absence, though I'm not too sure if this will clear up anytime soon.
I've asked for hazard pay at Walmart, from my state legislators, and from the Governor. I received a reply from the office of my state legislator who said it's tough to force private businesses to give hazard pay. I had already shared an article where Vermont and Minnesota have accomplished this by labeling essential workers as emergency workers. Today the Governor signed an executive order giving $100 million in child care for essential workers, and gave us two weeks of paid sick leave. That is helpful, but us "essential workers" are constantly reminded how the federal government gave those on unemployment (due to the Coronavirus pandemic) an additional $600 per week. The one-time $1200 stimulus check isn't going to help much if this pandemic continues much longer. All these legislators went on vacation while we worry about the next month.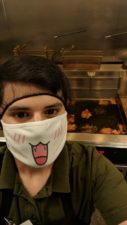 On the school side of things, I had originally planned to graduate at the end of Fall 2019, but decided to go one more semester for Spring 2020. I wanted to take the final two political science classes offered by San Joaquin Delta College, and I wanted to participate in the Politics, Law, and Society Club before transferring to Sac State. Then the entire campus shut down half way through the semester, leaving me at home once again. Now I can't socialize or even do much with the club.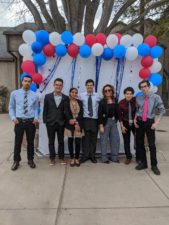 It's a little funny in a cruel way how I fought through my anxiety to leave my home and experience the world, only to be forced to stay home once again. I've tried making friends through school, but I miss my best friend who was almost my girlfriend, Amanda Wright. She was the person who helped me work through my anxiety and many other personal issues. She also nudged me in the direction of politics and law. Originally I was working on my English degree, and had planned to be a teacher abroad. Japan had always been in my sights, even as a child. Things changed after I met Amanda. I'm sure I fell in love with her, but I tried my hardest not to. Unfortunately, we had a falling out last year, and I feel like I missed the best opportunity of my life. Someone I related with, who held me up when I needed it. It makes me question whether or not I should continue my path in politics and law or go back to English. I feel trapped and lost at the same time. Trapped at home with part of my family, at such an old age. Trapped in this job that goes no where I wish to go, yet no other jobs are really available–especially during this pandemic. Trapped in this decision of what to study.
Another truth is I never desired teaching English, but I felt it was the best and easiest way to get to Japan. I could teach math, but not to foreigners. Don't get me wrong, I love English when it comes to writing and expressing ones emotions, but teaching it for the first time is something entirely different. That was an influencing factor on why I switched to politics and law. I know if I stay in this country I will continue studying and working in this area. I want to get involved instead of just watching from the sidelines and hoping officials and even journalists do the right thing. Either way, Japan is still on the back of my mind, as is the face and smile of the one who supported me.